Vacanzemaremma means sea, but our guests in one hour driving from our hotels and villages will also find the mountains with ancient towns and typical vegetation, Mount Amiata.

For a funny day trip the mountain offers lots of activities; near Arcidosso the Monte Amiata Faunal Park is a very important area both for its flora and fauna and for its historical value, thanks to the ruins on Monte Labbro.
In spring we suggest you to visit the park and meet the typical Maremma wild animals and discover how nature becomes greener and rich in a variety of colours in this season. In summer the park is never too hot (even in August), so it is a pleasure to have a walk with your children discovering the beauties of nature and its animals, such as the Amiata donkey (sorcino crociato amiatino).
After a long walk in the wood smelling flower perfumes and petting donkeys and horses, in a few minutes driving you will get to the Amiata Adventure Park. It is not important if you are child, teenager or adult, here anyone is going to find his perfect adventure in the forest. The park is always open, except in winter, so every season is perfect for a bit of adrenaline! Hanging bridge, rope bridge, pulleys in a rope, lianes and ropes for challenges between children and parents who are brave enough to awaken their spirit of adventure. Qualified instructors will teach how to climb on trees and bridges to children from the age of 2.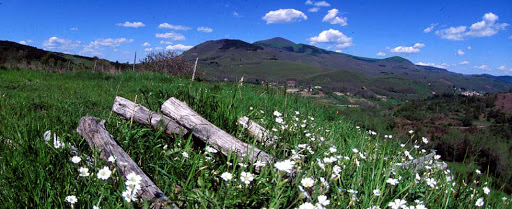 Before going back to your bungalow you have to do some shopping in the artisanal shops in Castel del Piano or Santa Fiora; a sip of chestnut beer and some very tasty dried porcini mushrooms will be the souvenir of this wonderful day.